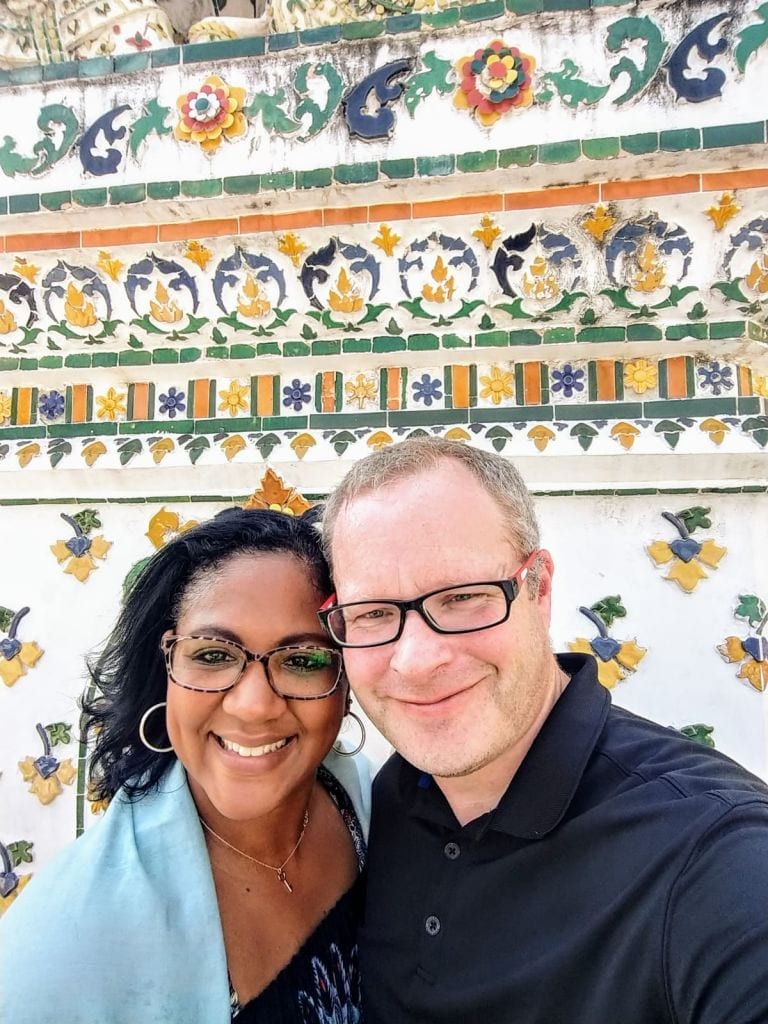 I can't believe it's time to say farewell Thailand. Notice we are not saying goodbye, we will be back. Many asked us why we chose Thailand in the first place. I'll be honest, we wanted someplace cheap where we could regroup from parenting and suburban life. Our expectation was to live cheaply and decide what we wanted to do next. We were both surprised with our experience.
1st Timers
We have both done a lot of traveling in our 26 years together. This was our first time in Asia. We started our Asia trip in Hong Kong. Hong Kong was very different from Thailand, but we did not know this when we were there. It has more of an urban jungle feel to it, much like NYC or Chicago. We fell in love with Hong Kong, we were sad we only allotted 1 week to explore this incredible place. To say we were nervous as we boarded our flight to Bangkok would be an understatement.
Love At First Shock
Although we had a rocky start to our journey in Thailand, we can honestly say we both fell in love with it on our first day here. We had a great flight in and the airport process was fairly simple, once we figured everything out. We arrived easily at our first Airbnb and had no trouble checking in. As we started to unpack suddenly the lights went out. Yikes!! Does this happen often? After looking around us, we seemed to be the only ones affected by this outage. Turned out we blew the apartment fuse with an air purifier (don't judge).
Power Back
Without power we were unable to text our host. We walked over to the nearest store where we could buy SIM cards for our phones. As we prepared to pay for our SIM cards the cashier asked for our passports. UGH!! They were back at the apartment. We walked back to get them and finally purchased the SIM cards to text our host to help us out. Thankfully, she was gracious enough to take care of everything within a couple hours of our request and we were set for a good night. By the time we got the power back, we were so hot and sweaty we opted for a nice, cool dip in the elevated pool.
Meeting New People
Our second day here was a lot smoother. We stocked our fridge and pantry and we headed out to explore our neighborhood. Our hope was to find a reputable massage parlor to get a traditional Thai massage. We walked down an alley, around the corner from the grocery store complex. It was incredible to find not 1 but 8 massages parlors to choose from. After looking at all of them, we decided on Super Thai Massage. This choice turned into a friendship for us. The owner, Huda, was very kind and she knew English. We had a lovely experience and we were set. This would be "our" place.
Dinner with friends and family

Buffet night at Radisson Blu

Hanging out with Huda

IconSiam

Heading to the river

Ancient Siam

Street Food

Pattaya

Fresh fruit stand
What's To Love?
Thanks to technology and great apps, we have been able to keep in touch with family and friends while we have been gone. We have told them all about how much we love it here. They have all asked us why? The first thought you have about Thailand is that it's rural or maybe a third world country with lots of challenges. I am here to tell you these thoughts are silly. Let me tell you what there is to love about Thailand.
The People
The Thai people win the award for the nicest people on the planet. I have never met kinder, more well-intentioned people, anywhere in the world. Thai's will go out of their way to help you and make you feel comfortable. In my 4 months here I have not interacted with one rude Thai person! I did find the Thai's in the high tourist areas act a bit different than the regular local areas but they are certainly not rude. The Thai's have a heart for helping others. The interesting part is that this is across generations. I saw children, teens and adults show kindness toward one another and us. I have seen children and teens give up their seats on the train so an elder or a pregnant woman they don't know can have a seat!! Where else can you find this? It is something I will miss as we say farewell Thailand.
The Structure
I am a creature of habit, I love structure. Structure is a big part of society in Thailand. I am always amazed at the way people kindly line up to get on a train. They wait for people to disembark before embarking on the train. If the train is too full and no one else fits, they don't push and shove their way in, they patiently wait for the next train. They are timely, if you make an appointment with a Thai person, you better be on time. They will be there early.
Cost Effectiveness
I admit this was the number one reason to come to Thailand for us but it's now at the bottom of my list for reasons to come to Thailand. Don't get me wrong, it's inexpensive to live here if you come from the US. I am very glad we got to spend this time here. I enjoyed the experience of getting to live like a "local". We did some touring, of course, but we spent most days, working (blogs, YouTube and photo editing) and living, enjoying the experience and soaking it all in.
Farewell Thailand
There is a saying from Winne The Pooh (I know, corny) "how lucky am I to have something that makes saying goodye so hard". We say farewell Thailand knowing we will be back. This beautiful, kind country has, forever, won our hearts. We will never regret the laughs, the smiles, the conversations, memories or the experiences we had here but most of all we will not forget the friendships. Thailand you were more than kind to us. You taught us many things and for that, we are forever grateful. Until we meet again, farewell Thailand, we love you!!!