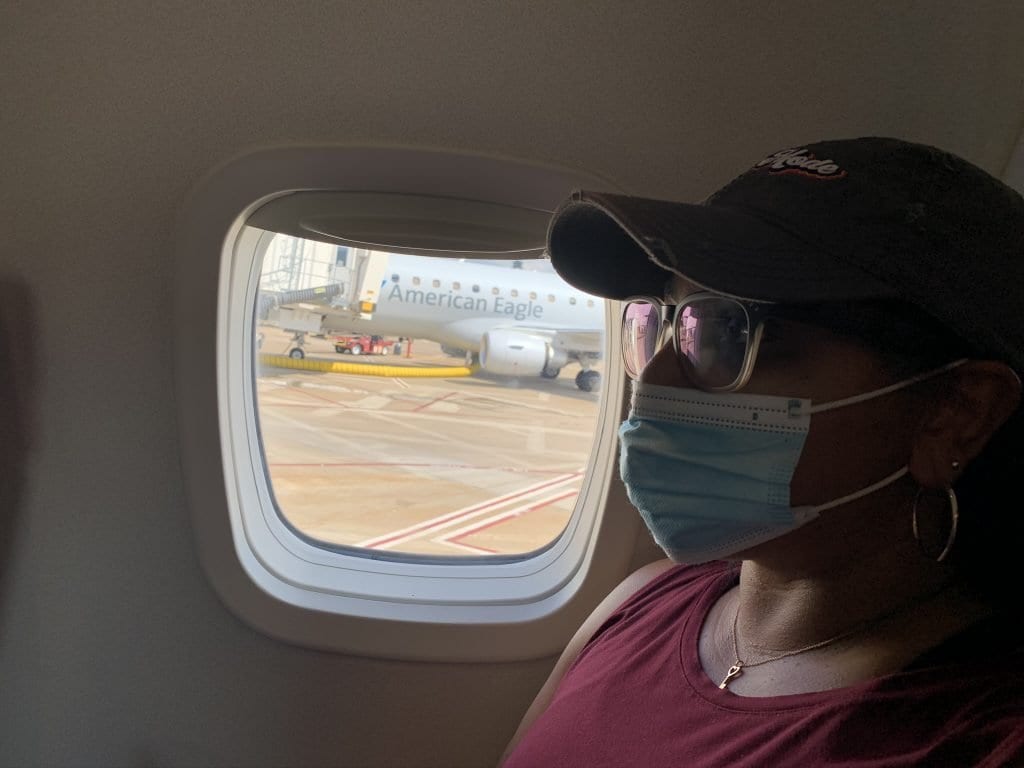 Flying Internationally During A Pandemic
We want to share a bit about our experience with flying internationally during a pandemic. We left the United States in mid January. There was some talk at that time about a virus but it had not been named and had not really been seen outside of China. We arrived in Thailand and it seemed like business as usual. Lots of people in Bangkok wear masks, so nothing seemed out of the ordinary. By the time February rolled around things seemed to pick up. We were seeing foreigners with masks as well as thermal temperature scanning at malls and large gathering places.
Everything Changed In March
By the time March rolled around we had a level 4 travel warning issued by the US State Dept. for all US citizens to repatriate. This is when we were trying to figure out if we should come home or find a place in southeast Asia where we could safely ride things out. At the time we did not know the intensity or the length of this virus. After some research we found that Malaysia would grant a 90 day Visa on Arrival (VOA) to us. We decided to buy tickets from Thailand to Malaysia. At this time airports were so crazy with people trying to fly home before their borders closed. Our flight was not until mid March.
Bangkok to Kuala Lumpur
On the day of our flight, we just kept hoping and praying our flight would not get cancelled and that we would still be accepted into Malaysia. This was our first time flying internationally in a pandemic. We arrived very early to the airport in case we had any issues with our flight. As we walked in we noticed how quiet and eerie the airport was. It's usually a bustling, busy airport filled with local and international travelers from all over the world, on this day we walked right up to the check in counter and checked our bags.
This was a good sign, the flight was still on! After temperature scans we went through passport control with no lines and no issues. We continued on to our gate, it looked like a pretty full flight. Everyone was wearing a mask in the waiting area. We were not required to wear them on the flight at that time.
Kuala Lumpur
We arrived in Kuala Lumpur 3 days before they closed the borders to foreign travelers coming in. We booked an AirBnb for one month in Kuala Lumpur. At that time, we did not know how long we would need to stay there. Our next order of business was to get food since we didn't know how long we would have to stay inside. We found a great grocery store not far from our apartment. After 2 days, we were all set for the next month if we would have to stay inside. We had a nice apartment, food and a great view of the city center with a nice view. We were all set.
Visa Running Out
Fast forward nearly 3 months. We have become accustomed to our new life in Kuala Lumpur but our visa was running out soon. Malaysia gave us the option of extending our visa or we could fly back to the US. At this time we were not sure what the flight options were, we knew there were many restrictions and a lot less flights. We started our research on flights. The flights were very limited, we could not fly out the day we wanted we had to move our date up to catch a flight to the destination we wanted to get to in the US. We booked a 3 legged flight from Kuala Lumpur to Narita (Japan) to Dallas and finally to Chattanooga. To fly out we had to present our US passports with a letter from the US Embassy in Malaysia to allow us to leave.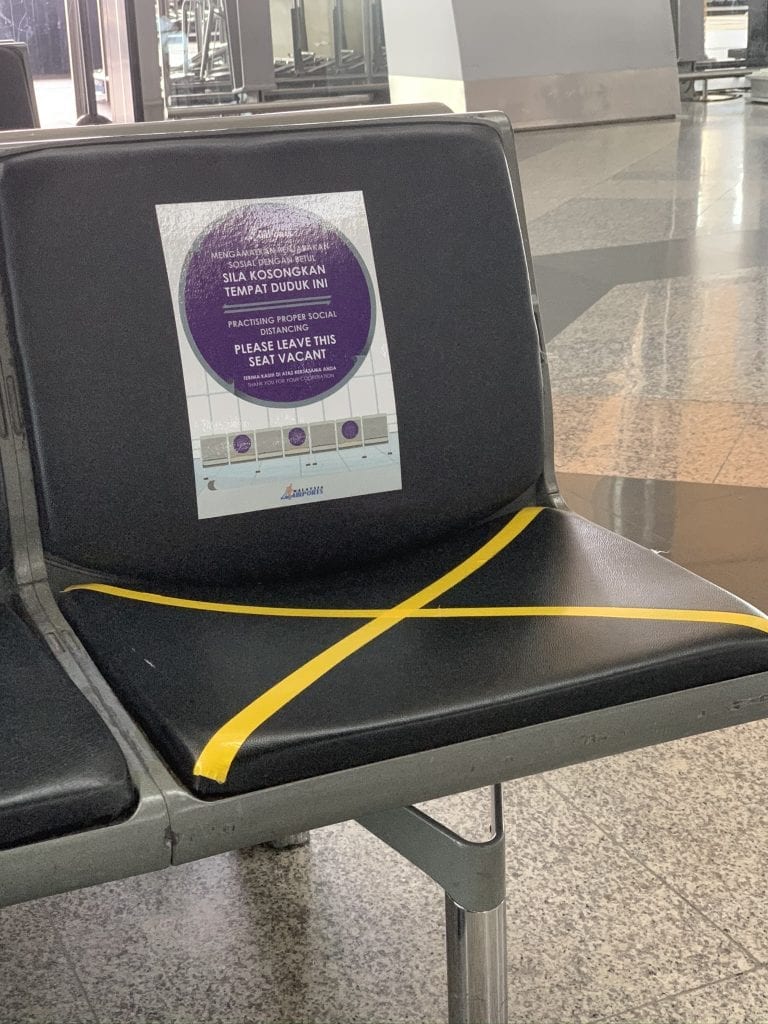 Kuala Lumpur To Narita
Finally the day arrived, we headed to the airport very early, just in case of any issues. We knew things would be different from the moment we arrived. There were almost no cars in the drop off zone. As we walked up to the airport we could see that all but 2 of the entrances had been blocked off. We walked into the airport and were greeted by a masked guard who checked our passports, boarding passes and embassy letter. After this we were allowed to proceed into the airport. We passed through a thermal temperature scanner before we walked into the nearly empty check in area. There were about 10 to 15 people walking around this area waiting for their check in stations to open.
We waited a couple hours before our check in was opened. The first thing the check in agent asked us was if we had US passports. We handed those to him and he proceeded to check us in. We passed through passport control with no lines. After this we proceeded to our gate where we waited to get through security before boarding the plane. We hear over the announcements several times to keep your mask on at all times. All restaurants were closed, we were able to get some food at the 7-Eleven before we got to our gate.
At last we boarded our flight and were well on our way to the Narita. The flight attendants all wore masks and gloves the entire flight as did all the passengers, except when we were served food. Seating was set up for social distancing, Rob and I could not sit next to each other. The flight was less than half full. On the upside, you had 2 seats to yourself for sleeping.
Narita To Dallas
Our flight to Narita was through Japan Airways but our tickets were purchased through American Airlines. We knew things would be different in Japan. When we arrived we were not allowed to disembark all at once like you would normally do. They allowed passengers with connecting flights to disembark first, you had to show your boarding pass to get off the plane.
From the gate we were escorted to the security checkpoint, we passes 2 thermal temperature scanners before we arrived to the checkpoint. After the security checkpoint we were free to move on to our departure gate. As we walked from security to the departure gate we noticed that every shop and every restaurant was closed, EVERY SINGLE ONE! I am glad we had snacks with us but we had no water because they took it a security and we did not have Yen to purchase from the vending machines.
The next passengers allowed to disembark were those who had a connecting flight in Japan and then the last ones to disembark were those who were staying in Narita/Tokyo area. These passengers had to go through COVID-19 testing before they could proceed to their next destination. We passed the testing area as we walked to security, there were about 8 stations with suited up staff waiting to test and a waiting area for waiting for test results. It was such a strange feeling seeing that as we walked past, felt very apocalyptic.
Arriving In Dallas
Long haul flights are a staple of our travel life. We travel to Asia often so we are used to it but this time it felt different, flying internationally during a pandemic is stressful. We boarded our American Airlines flight with American staff on board. The flight was about half full. They were not as strict on the seating but the staff went around and asked each passenger if they were comfortable with their seating option. The entire staff was very helpful and understanding. They wore face masks and gloves the entire flight, including their down time which was near us at the back of the plane. As we closed in on Dallas, I was a bit nervous on what the arrival process would be like after what we saw in Narita.
We landed safely in Dallas, we disembarked like we normally do. Then we proceeded to passport control and customs. We were only asked if we had been in China or Korea before the agent stamped our passports and welcomed us home. There were no temperature scans or any questionnaires. After clearing customs, we proceeded to our next departure gate.
A Shock In Dallas
We were so thrown off in Dallas. There were several restaurants open, which we were happy about. We were so surprised by how many people were not wearing masks. There seemed to be more people without masks than with masks. We actually got some looks from people because we were both wearing masks. The workers at all the restaurants and shops were wearing masks and gloves. Some dining areas in restaurants were closed but some were open with social distancing seating. We have been home for almost 2 weeks and it is still shocking to see peoples faces, we are so used to seeing eyes and masks. The seats in all of the foreign airports were marked off for social distancing seating but they were not in Dallas. It was so odd to not see "X" on every other seat.
We had gotten so used to the way things were in Thailand and Malaysia. It has taken some time for us to get used to being back in the US. We are experiencing a bit stronger version of  reverse culture shock (check out my blog about this here). I am not saying these things are right or wrong but I wanted to share our experience with you guys so you can get a picture of what things are like around the world. We had good experiences with Japan Airways and American Airlines. The staff on both were top notch and were very patient with passengers and requests. I would say that flying internationally during a pandemic was an interesting experience and has taught us a lot more about the world around us. What do you think about our experience? Would you have endured?
What's Next
Everyone has asked what we will do next? Will we continue to travel? It's a bit more challenging to make long term plans but we are making plans for the short term. Our current plan is to hop on an Amtrak train and see the country from the rails. We will start in Atlanta and head to New Orleans and hop off in Tuscon. We'll rent a car in Tuscon and head into the wilderness (national parks) for a bit and do part of Route 66, we've done most of it but missed this part last time. We will head to Las Vegas to decompress for a few weeks and after that, who knows. Stay tuned to see what comes next.